Published in How To
---
A lot of us have spent many days and evenings sitting in our gardens over the past year or so, even more than ever! But although much of this was because we've had to adjust to 'staying at home', for many people spending time in the garden has given us a newfound love for our outdoor spaces. Sales for outdoor shelters and garden furniture have skyrocketed, and there's no surprise why.
Now, as temperatures rise and summer draws closer, we're daydreaming about outdoor living – flowers, barbecues, sun and laughter, whilst sat outside with friends and family. 
We know that in order to really enjoy your time outside – garden seating is an absolute must! For this reason, we have put together some outdoor seating area ideas to inspire you, as well as top tips and what should be considered if you really want to wow your guests with your garden seating design.
1. What is the purpose of your outdoor seating area? 
Firstly, think about how you envision your outdoor seating space to be used –  this will determine almost everything about the outdoor space.
Ask yourself the following questions:
Do I plan on hosting alfresco dinners or barbecues outside with my guests?

Do I want to create a soft seating area to replicate a living room outdoors?

How many visitors do I normally have in the garden when I host?

Do I want my garden to be mainly a space to relax and unwind or a place to entertain?
Once you have answered those questions, that should be a great start with choosing the right layout within the garden, including how much seating and what type of seating you want to buy for your outdoor space.
 2. Work the seating around the surroundings
Your surroundings make all the difference so putting together your garden seating design strategically is a must. 
It's a good idea to look beyond the boundaries of a property to observe how the site fits into its surrounding environment. Is there somewhere within the garden that offers a fantastic view of the sunset, or are there certain areas in the garden where you can see eyesores? If that is the case, avoid placing your seating area where this is too obvious.
Even if you feel like you may not have a garden that has beautiful surroundings, something as simple as placing your outdoor chairs and tables next to a trellis can make all the difference – having flowers at eye level when you are seated can make your immediate surroundings feel colourful and full of life. 
3. Outdoor seating area ideas
Let how you want to use your garden dictate your furniture pieces. For example, choosing a more informal and laid-back dining table with a comfy corner sofa sets the scene for casual dining and laid back drinks. Why not try the followinf garden seating area ideas:
Garden pallet seating area
Paint and secure three pallets together and create a recycled, budget-friendly and beautiful outdoor seating area that can be moved around easily to different areas of the garden so you can ensure you're always in the sunniest spot. 
Some DIY retailers sell special pallet furniture cushions that fit perfectly on top of the pallets. Simply add some colour with cushions and you have yourself a great seating area set up. If one bench isn't enough, you could think about placing two side by side to accommodate more of your guests. 
Ideal Home has a fantastic step-by-step guide on how to make your own garden pallet seating area.
Perfect alfresco dining set up
There is no simpler way of creating a welcoming spot for al fresco meals than with a generous table and some comfy chairs on a paved area near the house.
If entertaining is your thing, then this is the perfect set-up for you. Choose good quality furniture that's comfortable for your guests and a large table that can house all of the food you'll be serving.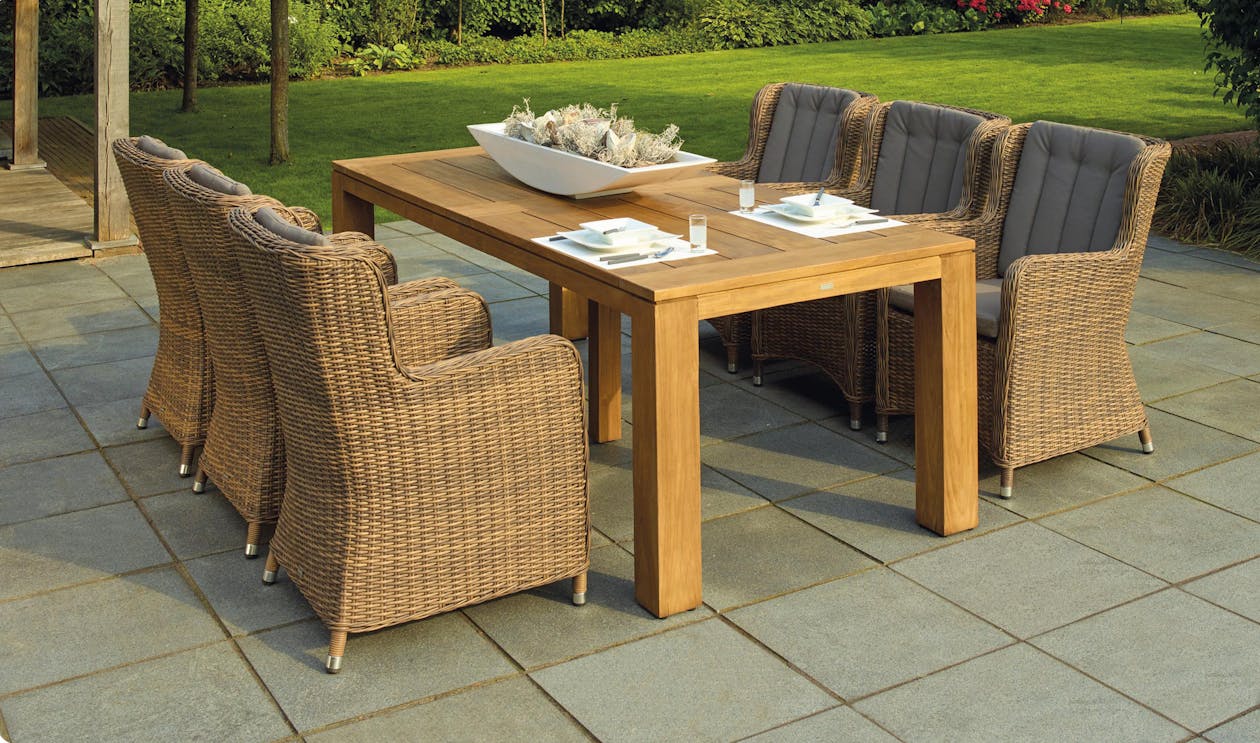 4. Shelter for your outdoor seating area
Of course, one of the most important parts of having outdoor seating space if you live in the UK is that you are sheltered in some way. We all know the British weather is not to be trusted, so having either permanent shelter or a temporary one, such as a gazebo, is vital in ensuring all your guests have a great time and the rain won't ruin your night.
Protection from the rain
For protection from the rain, if you don't have plans for a permanent shelter in your garden, we recommend: 
 If you're looking for a strong gazebo, there's no better fit than the Aluminium 50 Series range. The strongest commercial pop up gazebo available on the European market, the 50 Series offers performance and durability that is simply unbeatable.
For a smaller option that's suitable for a few guests, we recommend The 3m x 2m model which is one of our more compact frames designed for operating in limited space. Get peace of mind that your gazebo will stand the test of time (and testing weather conditions) with a top of the range shelter.
Protection from the wind
Shelter doesn't just mean protection from the rain – choosing the best area for protection from the wind can make a huge difference. When it comes to setting up your outside seating area, see if you can find parts of the garden, such as close to the side of the house, summer house or behind a hedge as these places will have a warmer 'microclimate' and will therefore be more sheltered from the prevailing winds.
 5. Factor lighting and warmth into your garden seating design
Lighting is vital to the overall atmosphere of your outdoor seating area – it's important that you can see your guests and that you have created an atmosphere that makes your guests feel welcome. Different shades of light can create different effects and therefore the lighting has the power to change the whole mood of your seating area.
If you have a gazebo for shelter, why not try using gazebo LED strip lights to illuminate the space? 
For subtle, cosy lighting, opt for outdoor lanterns or try wrapping string lights around your seating area, either within your gazebo, or draped across fences, walls or trellises. 
When the sun goes down, nights can get chilly, having a source of heat such as a fire pit within your seating area, or a gazebo heater if you are sheltered within a gazebo is a great idea to keep family and friends warm. 
Final word
Creating the perfect outdoor space requires consideration and a carefully placed seating area. Think about your surroundings, your views and your microclimate in order to choose the best spot for allowing guests to sit comfortably.
Finally, allow the function of your garden get-togethers to determine the furniture you will use for the seating area and ensure that the area is warm enough, well lit and you've put your style stamp on it.